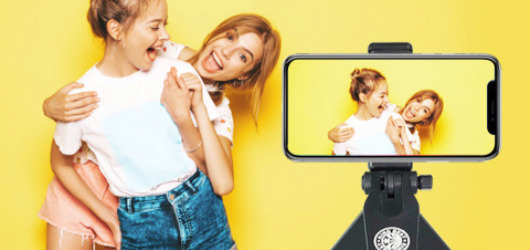 Specification
Model number : CX-10HR
SIMPLE AND EFFECTIVE: Perfect for taking selfies, group shots (including the photographer) and steady tripod shots wirelessly from a distance of up to 30 feet (10 m). You only need to pair the remote control with your smartphone or tablet once. Then choose the camera app you want to use and press the button of the remote control to capture that awesome picture!
TABLE TRIPOD: Compact High Quality Tripod equipped with Non Skid Rubber Feet for extra solid grip, even in a tilted position. The Tripod can also be used as a Hand Grip.
COMPACT REMOTE CONTROL: The remote is very small and lightweight, so it is convenient to carry with you on a key chain or in your pocket. Use it to capture amazing images when YOU are ready. There's no need to set up a timer and rush.
Perfect hands free solution for taking selfies, become a successful vlogger and steady tripod shots with your smartphone camera, from a distance of up to 30 feet (10 m).
Kit contents:
1 x Premium Tripod
1 x Universal Phone Holder
1 x Compact Bluetooth Remote Control
* Kindly Notice : smartphone and camera are not included